Bonhams to auction Steve's 70s classic costumes
Sale: 11707 - Rock & Film Memorabilia
Lots 376 - 381
27th April 2005 - Knightsbridge
Starting at 10 am
---
Lot 376 - Chinese Silk coat and accessories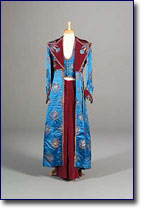 Photographer Mick Rock introduced me to Billy, a soft-spoken man with the kindness of a saint in his eyes. He didn't designed menswear, only women's haut couture, but Billy and his cutters and seamstresses seemed to become quietly excited at the prospect. We went for it, all right. Acres of rare Chinese silk, a hood, red satin lining, folds and pleats to the ground; the outfit brought a slight air of mystery to the dressing-rooms, even if some of the chaps did mock. The hand embroidery was overseen by Billy's head seamstress, a fabulous Greek woman, Nevis. The costume shared the stage with me in many towns and countries during the '76 world tour.
---
Lot 377 - The Clown Suit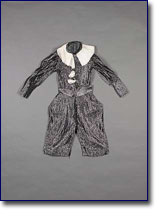 The first Cockney Rebel wore lurex clown suits, two green, two blue and my own in black. We never felt part of the Glam Rock movement, but there was a real theatricality about my early songs and it seemed natural to portray ourselves with a theatrical image. This suit has been in a plastic cover since 1973. Time it was aired!
---
Lot 378 - Haut couture Barrow Boy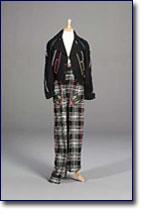 It was Bill Gibb himself who suggested the "haut couture Barrow Boy" look for the next tour. He knew of my working-class London roots and thought it fun to play on this. But that suit was warm up there in a Supertrouper's light. I would shake off the jacket after only a few numbers.
---
Lot 379 - Red Fox fur collar/Leather jacket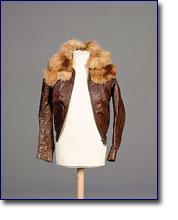 I bought this from a friend of a friend. Fifty quid. I think he needed the money pretty badly, because even then that was not a lot for such a seriously-made bomber jacket. I wore it for one of the TV recordings of "Make Me Smile (Come Up And See Me)" and it gets shown regularly on TOTP2 and VH1 regularly - or so my kids tell me!
---
Lot 380 - Pink satin flares, custom-made by Granny Takes A Trip
Once Cockney Rebel had signed to EMI we thought we'd splash some of our advance royalties on new, cusutom-made stage suits. We went to Granny Takes A Trip in the King's Road. Keith Richards was in there and he gave us a sort of weary, suspicious glance. Lord alone knows what was going through his mind as we went through our fitting!'

Worn in early publicity photographs and on the cover of the band's debut album, 'The Human Menagerie', 1974.
---
Lot 381 - White Nutters suit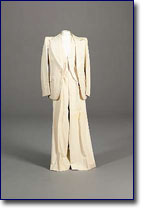 Nutters of Savile Row made this for another world tour, which we recorded for the Live "Face To Face " album. I had Nutters make me several other pieces for Civvy Street. The style, originated by Tommy Nutter himself, was instantly recognisable among those who cared at all for fashion.