Steve's Biography
STEVE HARLEY was born in Deptford, south London, on February 27th 1951, the second of five children.
Due to a childhood illness, Steve spent almost four years in hospital between three and sixteen years, undergoing major surgery in 1963 and 1966. Aged 12, while in hospital recovering from surgery, Steve was first introduced to the poetry of Eliot and Lawrence, the prose of Steinbeck, Woolf and Hemingway, and the music of BOB DYLAN and realised that his life was likely to be preoccupied with words and music.
Close to Christmas 1964, during that same nine months' hospitalisation at Queen Mary's Hospital for Children, Carshalton Beeches, Surrey, the ward welcomed the young ROLLING STONES who were on a goodwill PR visit.
Charlie Watts spent quite a time chatting with us kids, but the others seemed more interested in joking about the huge poster of THE BEATLES pinned to a wall.
Steve was a pupil of EDMUND WALLER PRIMARY SCHOOL, in Waller Road, New Cross, London, a short walk from his parents' home at FAIRLAWN MANSIONS, New Cross Gate, between the ages of five and eleven.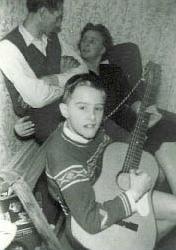 He attended HABERDASHERS' ASKE'S HATCHAM GRAMMAR SCHOOL, Telegraph Hill, New Cross until seventeen. He left school without completing his Advanced Level exams. Steve later took an A-Level in English in his mid-30s.
Steve's first guitar was a Christmas gift from his parents when he was ten-years-old. It was a Spanish, nylon-strung instrument.
He took classical violin lessons from the age of nine to fifteen and played in his Grammar school orchestra.
But he has always admitted he was a hopeless reader of music, so "must have been bluffing a lot of the time".
In the spring of 1968, Steve got his first full-time job, as a trainee accountant, at the DAILY EXPRESS newspaper in Fleet Street, London, in spite of gaining a mere 24% in his mock O-Level maths exam. But his heart was set on a career in Journalism, so being at the industry's heart was a useful stepping-stone for the nascent reporter. Interviewed by several newspaper editors, Steve finally signed indentures to train with ESSEX COUNTY NEWSPAPERS in Colchester, Essex. After three years working within the group, including stints at the Essex County Standard, the Braintree and Witham Times, the Maldon and Burnham Standard and the Colchester Evening Gazette, Steve moved back to London to work for the EAST LONDON ADVERTISER, then based in Mile End Road, in the heart of London's East End.
Among many of Steve's contemporaries who have gone on to successful careers in national Journalism are JOHN BLAKE (now Managing Director of BLAKE PUBLISHING) and RICHARD MADELEY, of daytime TV fame. It was Madeley who actually took over the desk relinquished by Steve at the ELA in 1972.
"So, if you hadn't given it up to become a rock star," Madeley has told Steve, "I may never have got my chance to become a reporter."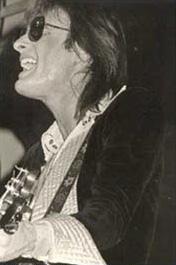 Steve began his singing career "floor-spotting" (singing for free as a member of the audience) in London folk clubs in 1971/72. He sang at LES COUSINS, BUNJIE'S and THE TROUBADOUR on nights featuring JOHN MARTIN, RALPH McTELL, MARTIN CARTHY and JULIE FELIX, all leading lights of the London folk movement at the time.
He later joined folk band ODIN as rhythm guitarist and co-singer, which was where he met the first COCKNEY REBEL violinist, JOHN CROCKER. However, the folk scene proved a little tame for Mr Harley and, as he was constantly writing songs, formed COCKNEY REBEL as a vehicle for his own work. It was here that Steve and STUART ELLIOTT first met and worked together. Stuart drums with Steve's band on record and on tour from time to time to this day.
The band signed to EMI for a guaranteed three album deal in 1972 and released THE HUMAN MENAGERIE early in '73. From this collection, a single, SEBASTIAN, became a huge European hit, staying at NUMBER ONE in HOLLAND and BELGIUM for many weeks. Other COCKNEY REBEL and/or STEVE HARLEY albums are: THE PSYCHOMODO, THE BEST YEARS OF OUR LIVES, TIMELESS FLIGHT, LOVE'S A PRIMA DONNA, FACE TO FACE (LIVE), HOBO WITH A GRIN, THE CANDIDATE (all EMI), YES YOU CAN (1992), POETIC JUSTICE (1996) and THE QUALITY OF MERCY released in late 2005, plus 2 other Live acoustic CDs, STRIPPED TO THE BARE BONES TO THE and ANYTIME!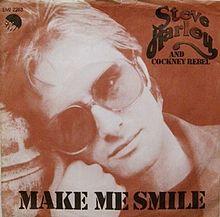 One Steve Harley and Cockney Rebel single, MAKE ME SMILE (COME UP AND SEE ME), reached NUMBER ONE in 1975 in the UK and many European countries and is regularly voted among the top singles in the history of the charts, which covers six decades of releases. The Performing Rights Society has confirmed MAKE ME SMILE one of the most played records in British broadcasting.
The song has been covered MORE THAN 100 TIMES in seven languages and has been featured in several movies including THE FULL MONTY (whose soundtrack album went TRIPLE PLATINUM in the UK, and PLATINUM in the USA and Australia), VELVET GOLDMINE, BEST and SAVING GRACE. The song has also been used on more than twenty TV and radio advertising campaigns around the world.
Steve's other chart singles include, JUDY TEEN, MR SOFT, MR RAFFLES (MAN, IT WAS MEAN), HERE COMES THE SUN, LOVE'S A PRIMA DONNA, IRRESISTIBLE, PHANTOM OF THE OPERA (with SARAH BRIGHTMAN) and A FRIEND FOR LIFE.
During the eighties, Steve took time out from the rock world as his two children were going through their formative years but did perform on stage, albeit the legitimate stage. He starred as the C16th playwright Christopher Marlowe, in the musical-drama MARLOWE, which ran off-Broadway and in London. Steve's performance was described by one leading critic as "a major and moving performance."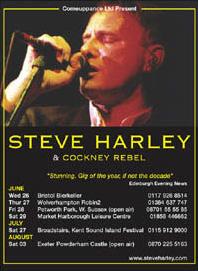 Steve has written lyrics for several other artists, including his old friend ROD STEWART who has called him "One of the finest lyricists the UK has ever produced."
And Steve still plays many Live concerts most years.
"I love it more now than ever. I cannot imagine stopping it. It's what I do, play and sing", he says.
The majority of the shows will be with his rock band, but many are in the STRIPPED TO THE BARE BONES format, an acoustic set with one or two other musicians accompanying him.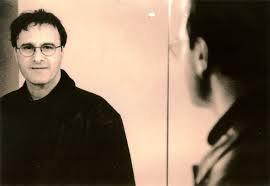 Among those who have benefited from Steve's charity performances have been HUNTINGDON HALL, Worcester; CHAILEY HERITAGE SCHOOL FOR HANDICAPPED CHILDREN; NORDOFF-ROBBINS MUSIC THERAPY Charity; THE BRIDGE PROJECT (for those with learning difficulties), SUFFOLK, and GUITARS AGAINST LANDMINES.
Steve has been an Ambassador for the Mines Advisory Group for several years and has lead two treks, one around Cambodia and another across Death Valley, to help raise funds towards landmine clearance.
Steve presented his own show for BBC RADIO 2, SOUNDS OF THE SEVENTIES, comprising classic tracks and rarities from the era and anecdotes from Steve himself, 1999 for 9 years.
Steve has been involved in racehorse ownership since 1984 and racing is his main pastime.
"It's my therapy. My hobby. I only wish I could have ridden a big, good steeplechaser over the Cheltenham course just once in my life."
LONDON'S WEST END THEATRE: Steve starred, in 2007, in a Samuel Beckett play, ROUGH FOR THEATRE 1 & 11, at The Arts Theatre.
Steve was awarded a GOLD BADGE OF MERIT by the British Academy of Composers and Songwriters in 2002.
In recent times, Steve Harley and Cockney Rebel have played Glastonbury Festival three times, the Isle of Wight festival and many of Europe's major rock festivals.
Steve received a Special Award from Childline Rocks for his work for charity, at the Classic Rock magazine Award ceremony at London's Park Lane Hotel in 2009.
Steve's work raising money for the Mines Advisory group and several schools for Disabled Children were cited in the speech delivered by blues guitarist Joe Bonamassa.
This biography compiled by Comeuppance Ltd.