First studio CD for nine years due September - plus UK Rebel Tour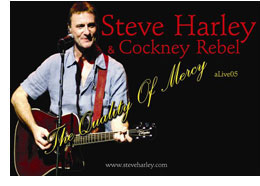 Steve's first all-new studio CD, "The Quality Of Mercy," is being prepared for a September, 2005 release. The tracks are being fine-tuned at a studio in Suffolk, and are almost ready for mixing.
Manfred Esser will be shooting a cover photo at a session in Cologne, Germany, in April.
The CD will include three tracks already familiar with concert going fans, such as "A Friend For Life," "The Last Feast" and "Saturday Night At The Fair."
Steve and his regular band have spent many long days in recent weeks working in a Pro-tools studio in Suffolk. The album is now at the mixing stage and Steve, to demonstrate his own feelings with the way the work has developed, said at his "An Audience With....." show in Stamford, Lincs. recently, "I am making a record that pleases me - I can only hope it then pleases lots of other people, including the critics. We have a wild drum sound on the rocky tracks and the lyrics are flowing once again. I am very, very excited about this project. The band have looked at me as though I'm mad, when I've put forward certain production ideas, but they've come to accept now that sometimes the safe way is not necessarily the best way forward."
To support the new album, a 30+ date UK Tour, as Steve Harley And Cockney Rebel, is being planned for the autumn, beginning at the end of September, running through to a handful of Christmas Specials in December, when The Backbeat Beatles will appear as support. The tour winds up at Shepherds Bush Empire, December 9th.

In November, Steve takes an Electro-Acoustic band to Holland for a run of around 15 shows, then the set-up moves into Belgium (Dec 1-4).