Original Band Reunites for "Best Years" Tour!! click here
Written by

Webmaster

Read: 27893 Times
Steve Harley, the original Cockney Rebel, returns with the 'Best Years Of Our Lives' 40th Anniversary which will reunite the surviving original band members from that seminal album. Jim Cregan (guitar), Stuart Elliott (drums) and Duncan Mackay (keyboards) will be playing together with Harley for the first time since 1976 when they start the tour at Manchester's Bridgewater Hall, November 2nd.
Harley says, "The three guys are still my mates. The fun we had back then, when we toured and recorded together, holds fabulous and special memories. I take life on the road a lot more seriously now, though, so they'd better be prepared! I'm thrilled to think they'll be up there on the great UK concert hall stages with me once again."  Cregan left Harley's band to join Rod Stewart, staying with him for several years; he still writes songs with Rod today ('Brighton Beach' was a recent Cregan/Stewart release); Elliott has played with Kate Bush, Paul McCartney and Al Stewart and has long been considered one of London's most sought-after session drummers; Mackay left Harley to join 10CC and has since continued his musical career in Cape Town, South Africa. The original members - bass player, George Ford, died a few years ago - will be joined by long-standing Cockney Rebel member Barry Wickens on violin and guitar. Also in the line-up will be young Austrian musicians, the twins Lisa and Mona Wagner, playing second lead guitar and percussion respectively.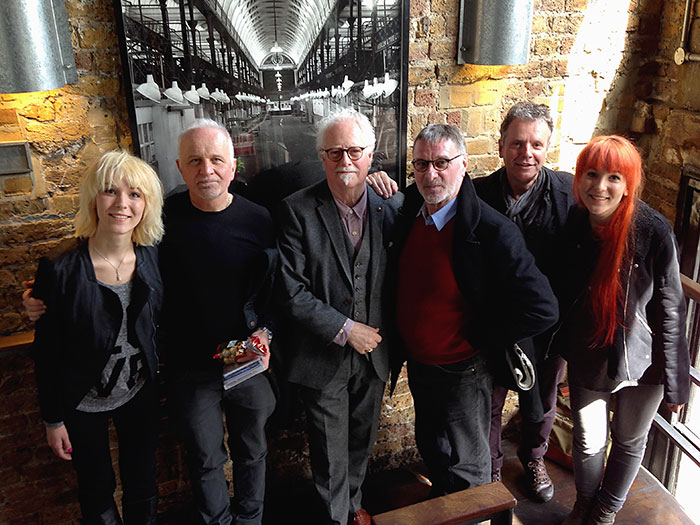 The shows will comprise of two sets.  One will be 'The Best Years Of Our Lives' album itself in its entirety, for the first time ever, including a few B-sides and out-takes of the period. The shows' opening set will be comprised of tracks chosen by a Fans' Poll, via the Harley website and social media.
Released in March 1975, this album contained the monster hits 'Make Me Smile (Come Up And See Me)' and 'Mr. Raffles (Man It Was Mean)' and for many marked the true arrival of Steve Harley as a songwriter of true verve and sophistication. Steve Harley said, "Fans have been urging me to play 'The Best Years' album straight through for some time, and now is the time!. I'm really excited by the prospect of tracks like 'Back To The Farm' getting an airing after so many years…I might play a slow, bluesy 'Make Me Smile', as I presented it to the band originally, as track six, then the full-blown version at the end of the night. It's a tough one to follow!"

NOVEMBER 2015
Mon 2nd - Bridgewater Hall - Manchester - ticketline.co.uk / 0844 888 9991
Tues 3rd - Venue Cymru - Llandudno - venuecymru.co.uk / 01492 872000
Weds 4th - Brangwyn Hall - Swansea - orchardentertainment.co.uk / 01792 637 300
Thurs 5th - Palace Theatre - Southend - southendtheatres.org.uk / 01702 351135
Sat 7th - Bath Halls - Scunthorpe - bookingsdirect.com / 0844 854 2776
Sun 8th - Dome - Doncaster - solidentertainments.com / 01472 349222
Tues 10th - City Hall - Salisbury - cityhallsalisbury.co.uk / 01722 434434
Weds 11th - Indigo at The O2 - London - ticketline.co.uk / 0844 888 9991
Thurs 12th - Assembly Theatre - Tunbridge Wells - assemblyhalltheatre.co.uk / 01892 530613
Sat 14th - Corn Exchange - Cambridge - cornex.co.uk / 01223 357851
Mon 16th - Philharmonic - Liverpool - bookingsdirect.com / 0151 709 3789
Tues 17th - Symphony Hall - Birmingham - ticketline.co.uk / 0844 888 9991
Weds 18th - Regent Theatre - Ipswich - bookingsdirect.com / 01473 433 100
Fri 20th - Warwick Arts Centre - Coventry - bookingsdirect.com / 024 7652 4524
Sat 21st - Leas Cliff Hall - Folkestone - bookingsdirect.com / 0844 871 3015
Mon 23rd - G Live - Guildford - bookingsdirect.com / 0844 770 1797

MOJO said simply, "Harley creates rock songs that are proud, lyrical and full of yearning." 'The Best Years Of Our Lives' is a landmark Steve Harley release and the chance to hear that in full on this tour is an opportunity that no fan will want to miss.