You'll remember that pledge I made on stage at the Concert At The Kings Festival, All Cannings, Wiltshire, last May? Proceeds go each year to The Macmillan Nurses. I was not aware of this until a stage manager mentioned it as I waited backstage, a minute before show-time. It stayed on my mind through the first few songs. I was playing a new guitar, a fine Taylor, a 310-CE electro-acoustic model. It wasn't sounding so great in my monitors and I had to send word to the engineer in the wings. I looked out at the 5,000-strong crowd and explained: "This is a beautiful guitar. New guitar. Really good instrument. So it should sound fabulous." I remember holding it up and toying with extraneous thoughts. I looked down to those on the barriers and told them, "You can have this guitar". We built a rapport over the next few songs, the guitar up for auction, starting at £1,000. I wouldn't accept less. My guitar techie came on to swap instruments and told me "It's up to two grand".
The offer improved. I added "A pair of Guest tickets to anyone of our shows – just not festivals." The bidding rose to £3,000. I added, "And you can come to the sound-check". £3,500. "And you can join the band for dinner – I won't be there, but you can join the band! Kidding, just kidding….." Shop, my tech, came back with the Taylor. "Latest offer - £6,500." This was incredible. I told the crowd, "We're here in Wiltshire – lots of money down here. Wealthy people. £6,500 we've got. But it's worth more – you can do better….for The Macmillan Nurses"….. I added a mad addendum: "And I'll come to your house and play a set of your choice and you and your friends can film it, stick it on YouTube…"
We finished a storming hour and fifteen, and I felt a good, generous vibe in the air. It had been a proper rock show, with some virtuoso work from the players, and it had that community spirit, through Riding The Waves ("We got the feeling…..") and Make Me Smile, of course, but also, and most importantly, it had been fun.
I struggled down a ten-flight iron stair-case/ladder to the ground from backstage, and the promoter, John Callis, took my arm and shouted "Fantastic show, Steve. And thank you. The auction raised £10,000." I asked him, astonished, if the offer was genuine. He said yes, a local business executive known to them. And the money came. And the guitar left my possession that day. And at the end of October Barry joined me at the buyer's house and we played. The new owner of that fab Taylor guitar wants to remain anonymous. Save to say, he is a really good man and has a lovely family who treated us really well. It was a joy to honour my pledge. In truth, I was more nervous standing at their front door that evening than I was in the wings at the festival.
And now we have Julie Brown on our minds. We're not sure exactly what illness she is suffering, but we know she's very poorly. Jimbo has given a hospital address on the Forum, so do send her a card. If you live nearby and have ever met the sweet girl, maybe pop in and wish her well from us all?
Next show: Hull City Hall, February 26th – complete with new song. Well, the same new song we played at York Barbican, but with a twist. I said it was a work in progress, and now it has a separate section, a middle eight. It's my birthday next day, 27th. Wondering, can we play the longest set in my history, going through midnight so you can give me three cheers and the bumps? The bumps! Sixty-four of the bloody bumps. My backside would be raw! So, maybe just a quiet glass of something chilled and bubbly in a Travelodge on the A1 then?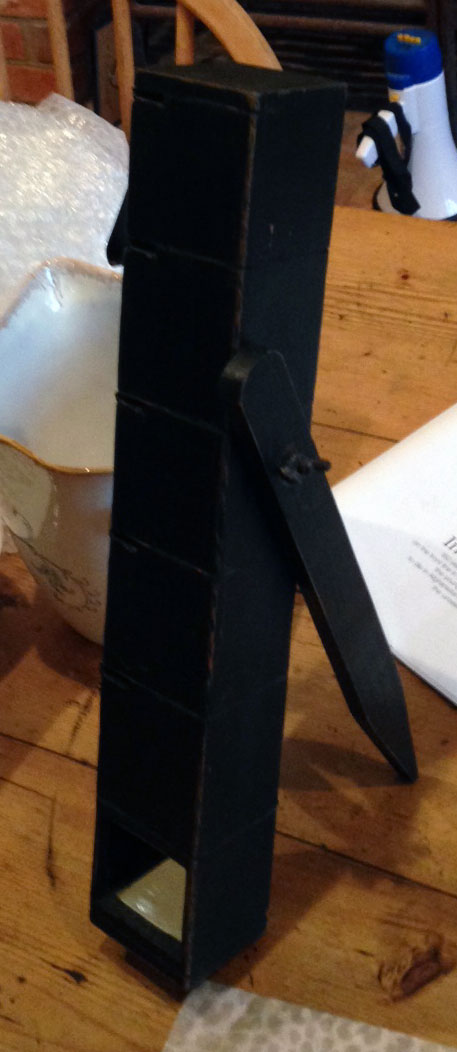 Here's a pic of my gift to Godson Archie, for his 18th. It's a Trench Periscope from WW1. Archie seemed knocked out with it. "I'll keep it with me all my life," he said. And I bet he will. Archie comes from a fab family. His dad, Jeremy, has been one of my closest friends, a real confidant, for more than 30 years. Dinner at The Shard, looking down onto that moat of almost a million ceramic poppies was special. I have three on order – one for each of my kids and one to keep (or maybe I'll pass it to Archie when he's 21...). Jeremy got in too late with his order. They'd all been taken.

My dad has moved back to Blighty after ten years living on the north-east coast of Spain in a small town, Moraira. Now he's on the Essex coast, in a cool flat with a balcony overlooking the Colne estuary. He's with his lady friend, Eileen, and so far it all looks good for them. But he's 88 and has a poor short-term memory. And she's his contemporary, so…..anyway, my dad is now an hour and a half away from me, rather than 10 hours, so I'm seeing him regularly. That was my best Christmas present, truthfully. Talking of which, several fans sent gifts – and I thank each of you very warmly. "The Traveller's Guide" printed in the early 1900s, and "The Bristol Tune Book", a manual of tunes and chants, 1898, deserve special thanks. Can't name names here, but the dear girl is known to many of you and real stalwart of the website. My kids watched me open these several gifts from non-family members and ribbed me. "It's like the 1970s all over again…" they mocked. A copy of "The Beatles Monthly" came, too. From December 1963 – the same month The Rolling Stones visited Queen Mary's Hospital for Children, in Carshalton Beeches and chatted to me and the other lads in Ward C3. Concidence? Maybe. Or maybe our friend knows a thing or two about my childhood.
Happy New Year to you all. Mostly, good health.