Didn't meet Ian Anderson, after all. But the setting was fabulous, baroque gardens, a Georgian Schloss and a big crowd in the sun. But did meet Bryan Ferry at Glastonbury Abbey. We shared a touch of small talk and that was that. He might actually be quite shy, and like myself really come to life once the light hits him. For the first time, I asked Michael Eavis for a photo together, though we've met on several occasions. He is a fascinating man; strolling around like a lost punter, shorts and wellies, and the ubiquitous Dutch beard – unmistakable! Back indoors, the following weekend the Holmfirth show brought a big smile to many faces, both out front and backstage. I'll try to arrange something special, maybe festive, but different, if I can for the December 28th show there. Maybe I'll shave – no, I won't go that far!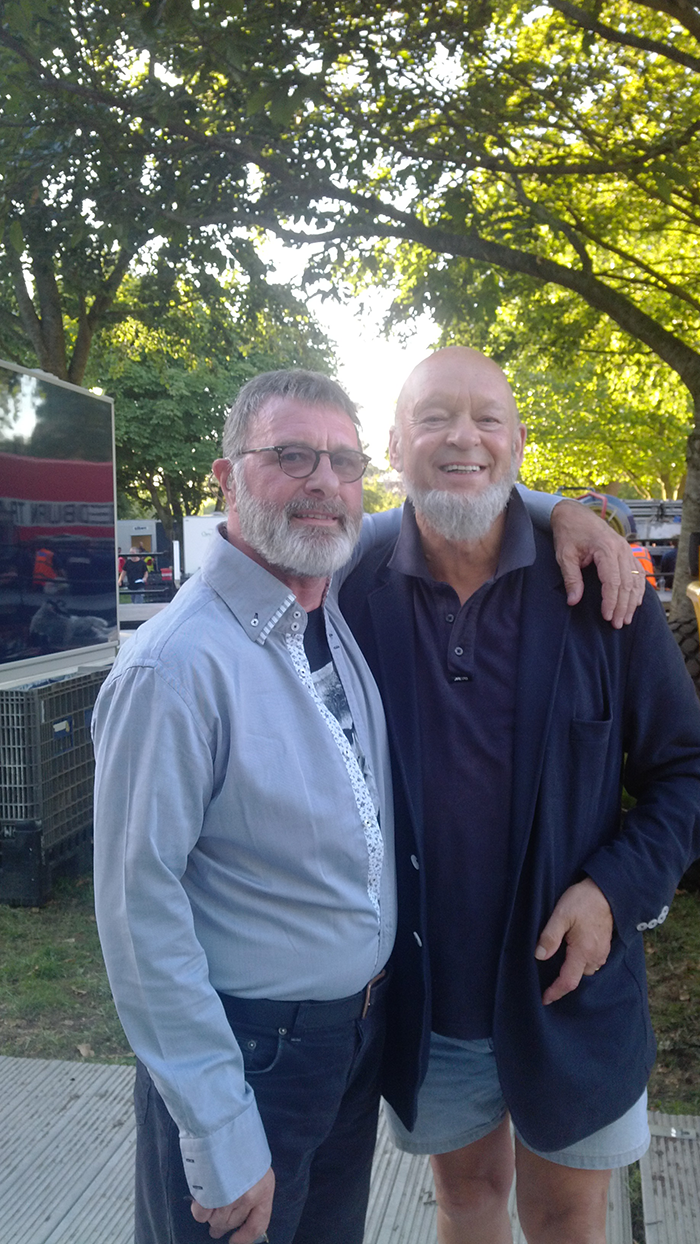 Rewind was odd in that we played only a 30-minute set. But we brought the singing voice out in around 20,000 people, at a guess, and got off early for dinner and quiet night somewhere off the M4. The band and crew and I don't often get together after a show, but that night we all met, every one of the squad, in a hotel bar and shared a glass or three and some idle, and witty, banter. We did something similar at Schwetzinger, outside on the hotel's pavement bar, where James made a spectacle of himself. Picture here to prove it. I sent him the photo. "Par for the course," was his self-deprecating response. Beautiful Days Festival in south Devon was a very family-orientated affair and all the more special for it. Again, the sun shone for us and 10,000. If you like a bit of folk-cum-jolly-dance bands and maybe like to take the young 'uns, that's one to consider. And I am a big fan of The Levellers, although again we moved off an hour after our set and didn't hear them that day.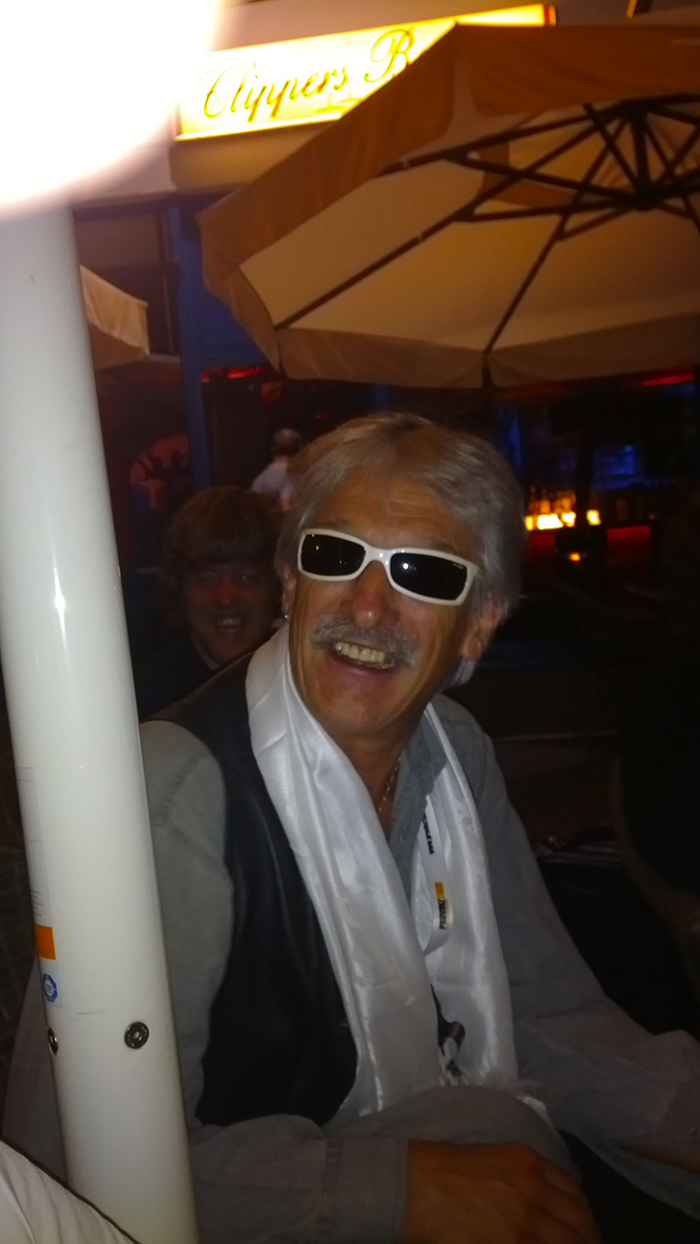 My Audience With…hour with Johnnie Walker flashed by. He didn't get time to involve the audience with their own questions. His researchers came up with some interesting bits of Harley History, and they showed some good Live clips. Johnnie is one great Broadcaster and I would have gone there for him even if we hadn't planned a visit to Mrs Harley's elderly relatives in the Glasgow area. To Loch Lomond: went up over the Western Isles in a sea-plane. I have a sever fear of heights which manifests itself in a crazy wish to jump and fly. Acrophobia. And it will never go away. I live with it and manage well enough. In jet airliners, I'm fine. But that eight-seater with a single-prop engine caused a few tightenings of the buttocks, especially each and any time he banked. I seemed to be the only wus on board, and had to keep myself in check. I never know who might recognise me (the pilot sure did), and who might get straight onto their Twitter friends or Facebook buddies and grass me up. Wanted to scream at times, but hey…..I manned up! But was very glad to get back on terra firma.

And coming soon…..