I've been a fan lately. Eurostar to Brussels to see Yusuf. He played a beautiful set, made up mostly of Cat Stevens' Greatest Hits, and you couldn't ask for more really. Great band with him. Alun Davies back with him on acoustic guitar was especially good to see. Yusuf introduced him as "one of my best friends". They took "a holiday" for Ruby, My Love, with Greek island seascapes on the big backdrop and the bazouki parts were played in brilliant harmony by guitarist Eric Appapoulay on mandolin and percussionist Kwame Yeboah on 12-string guitar. After the show, I spoke to Yusuf about in-ear monitors and why doesn't he wear them. Like all of us of a certain age, he found them difficult to get used to, but I pressed him to persevere. They are a singer's saviour. Yusuf had his beautiful wife and two teenage kids with him, and there was much good feeling back there. The canon of work he has to choose from is enormous and brilliant. He is one of the greatest writers the music industry has seen, in any generation, at any time. Played the Forest National, a circular arena, capacity close to 7,000, and it looked close to full to my eyes. We got close to selling it out in the mid-70s. Not today, sorry to admit. I felt pangs, the sort of wistful day-dreaming we get in reminiscing of other, better times. Today is good, too, though, and I relish every minute of my professional life.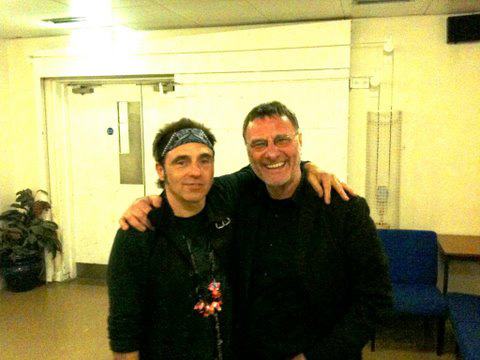 And this week I took the boy to St Albans arena to see Nils Lofgren. He sat open-mouthed at much of the brilliance that shone from Nils and his "band", namely Greg Varlotta. Nils and I discussed the merits of Cadogan Hall, Sloane Square, in London. He and Greg have been there on this tour and go back at the end of the month. I told him I am planning a one-off concert where we play with orchestra and choir, the set consisting of the first two Cockney Rebel albums: first set "The Human Menagerie" plus Judy Teen; second half, the whole of "The Psychomodo" plus Make Me Smile, probably. My agent and I are considering venues. Nils thought the Royal Festival Hall, but really it's pretty big with a capacity of 2,700, whereas Cadogan Hall holds around 1,000 I think.
Wrote to him after the show to say the truth, that it was one of the best musical experiences of my life. Nils is gifted. Most guitarists play music, sometimes well, sometimes brilliantly. Nils plays poetry. It's different. He and Greg are formidable. They get three Appalachian clog dances into the show, as well as music from the very top drawer. If their 2-man set comes your way, and you truly love music and proper entertainment, grab a ticket. As Kerr said, it's phenomenal really. And he's right. As a guitarist, Nils is from a very special place. And like all the great artists, he's a nice man too. Nothing to prove really. Modest as he is, I have to believe he knows deep inside how special he is. Shine silently indeed.
Been rehearsing with Adam Houghton on drums. Adam starts his latest run of shows with us at the weekend. Early rise tomorrow for Denmark and Germany. Plans and trains and tour buses again, and I wouldn't change a thing.