Latest News
Steve will be talking Live on air to Billy Sloan on Sunday evening
Tuesday, 23 December 2014 17:12
It will be Billy's last ever show, as Radio Clyde have dropped it from their schedule for the future.
Fans might like to email the show and ask Steve a question, such as "What is your most special memory of appearing on the Billy Sloan show?
Get well, Julie ...
Thursday, 18 December 2014 16:44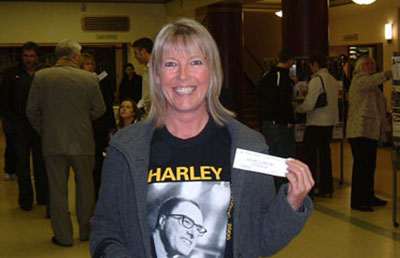 ..and it's not just Steve sending this wish, there are THOUSANDS of us! XXXXXXX
The Quality Of Mercy CD back in stock
Thursday, 20 November 2014 19:11
This ever-popular CD includes Live favourites such as Journey's End, A Friend For Life, The Coast Of Amalfi and Saturday Night At The Fair - click here

RAK Sign New Bands - Make Me Smile Gets Covered
Tuesday, 04 November 2014 21:29
"RAK Singles Club gate epitomize the label's agenda, to shine a spotlight on the best of new music with no restrictions of style or genre - the only condition is that the music is great and that the bands deserve an audience. While the A Sides are original songs written for the project, RAK asked each artist to cover a RAK catalogue song, and so the B Sides are modern takes on classics.."
So far, RAK have singed three acts "Trojan Horse", "Beautiful Boy" and "Cadbury Sisters".
The Cadbury Sisters (descendants of the Cadbury's Chocolate founder) picked "Make Me Smile (Come Up And See Me)" as their B-side (to be released on the 24th November online and vinyl only). It has had a little love from Radio 2 (Janice Long in particular) and is in the running for a playlist slot.
Here is Janice Long playing Make Me Smile on her show http://www.bbc.co.uk/programmes/b04mpzjm 1 hour 28 mins 30 seconds in.
Steve loves it…!!!

Photo Diary of another special night
Thursday, 30 October 2014 00:27
Scroll through this Photo Diary for a great interpretation of the Floral Pavilion, New Brighton show's preparation and the concert itself - Pix by Mike Callow

AAA Passes
Wednesday, 13 August 2014 20:54
A number of AAA Passes, unused for the three recent orchestra and choir concerts, are available for sale at cost price. The pass (one available per person, per order) is a memento only, and of ornamental value. The pass must not be used in an attempt to gain backstage entrance at any shows.

The cost: £4 each, including p & p, no lanyards available.
The Best Years Of Our Lives - Definitive Version - on sale now at Amazon
Wednesday, 25 June 2014 20:03
Steve Harley and Cockney Rebel - Orchestra & Choir Concert Tickets NOW ON SALE
Friday, 29 November 2013 23:33
http://www.ticketline.co.uk/steve-harley-and-cockney-rebel-in-concert#tour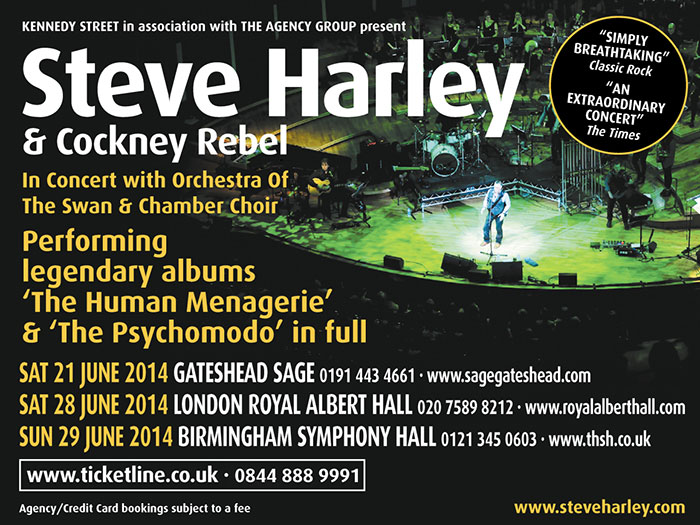 Limited Edition T-shirt For Orchestra & Choir Concerts, pre-order now!
Sunday, 16 March 2014 16:24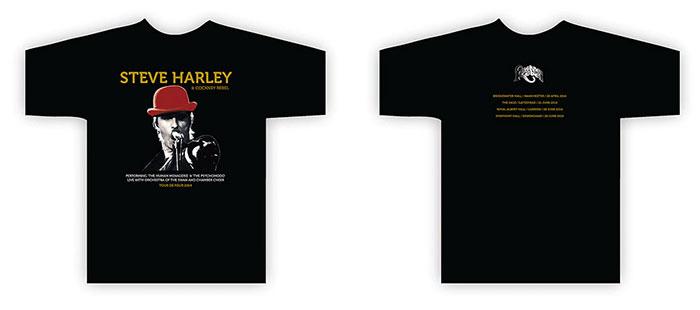 Available for delivery April 2nd
Busy Promotional week ahead for Steve
Monday, 24 March 2014 14:17
Tuesday, pre-record interview with Mike Sweeney, BBC Radio Manchester; London to pre-record interview with Johnnie Walker for BBC R2 Sounds Of The 70s; Thursday, record "Vintage TV" acoustic set, Balham; Friday, Live on BBC London with Robert Elms.
Harrogate, Royal Hall photos
Friday, 08 November 2013 21:43
More pictures coming soon.

Page 1 of 15