Latest News
BBC Look North will feature news of Saturday's Rock For Ronson event, at 6.30 this evening (Monday)
Monday, 25 April 2016 12:30
Rock For Ronson, Hull, April 23
Tuesday, 02 February 2016 10:46
CALL Box Office for last avails: 01482 300300
SH & CR, plus Earl Slick, Lisa Ronson, AllForOne Choir, Steve Norman, MonaLisa Twins
Steve Norman is on board for the Rock For Ronson Concert
Wednesday, 27 January 2016 11:11
Steve Norman is on board for the Rock For Ronson Concert, Hull, April 23rd. The Spandau Ballet member plays sax, guitar, percussion and backing vocals. Steve Harley said, "Steve Norman is a really charismatic performer and he'll be a big asset to the evening. Bless 'im!"

Earl Slick - Rock for Ronson
Thursday, 21 January 2016 17:25
EARL SLICK has confirmed he'll join the Rock For Ronson concert, April 23, with LISA RONSON (Mick's daughter) and PAUL CUDDEFORD. Few tickets remaining…
Interview with Steve in Northern Echo
Thursday, 14 January 2016 13:48
AllForOne Choir of Yorkshire
Tuesday, 12 January 2016 13:34
The 80-strong AllForOne Choir of Yorkshire has been added to the Rock For Ronson bill, Hull, April 23rd. The choir will perform alone and with Steve on "Sebastian"

David Bowie - RIP
Monday, 11 January 2016 11:34
David was the personification of an enigma wrapped in a mystery, right to the end. Stars don't shine any brighter - Steve Harley


4th place in the Belgium top 1000
Wednesday, 06 January 2016 22:32
Sebastian has been voted a fantastic 4th place in the Belgium top 1000 of all time, voted by listeners on Radio 2 in Belgium . What a jump.....from 9 last year to 4th
Rock For Ronson
Thursday, 17 December 2015 13:22
Steve has announced via BBC Radio Humberside and Look North TV news, that he and Cockney Rebel plus Special Guests tbc, will play a fund-raising concert for a Mick Ronson Music Scholarship, HULL CITY HALL, Saturday, APRIL 23rd - on sale now
Box Office: Little Queen St, Hull HU1 3RQ
Phone: 01482 300300 for tickets
Or click here for more details and online booking

Steve Live on-air, BBC Radio Humberside
Thursday, 10 December 2015 12:26
Weds 16th, 10 a.m, Burnsy Show - special announcement to be made
Hessentag 2011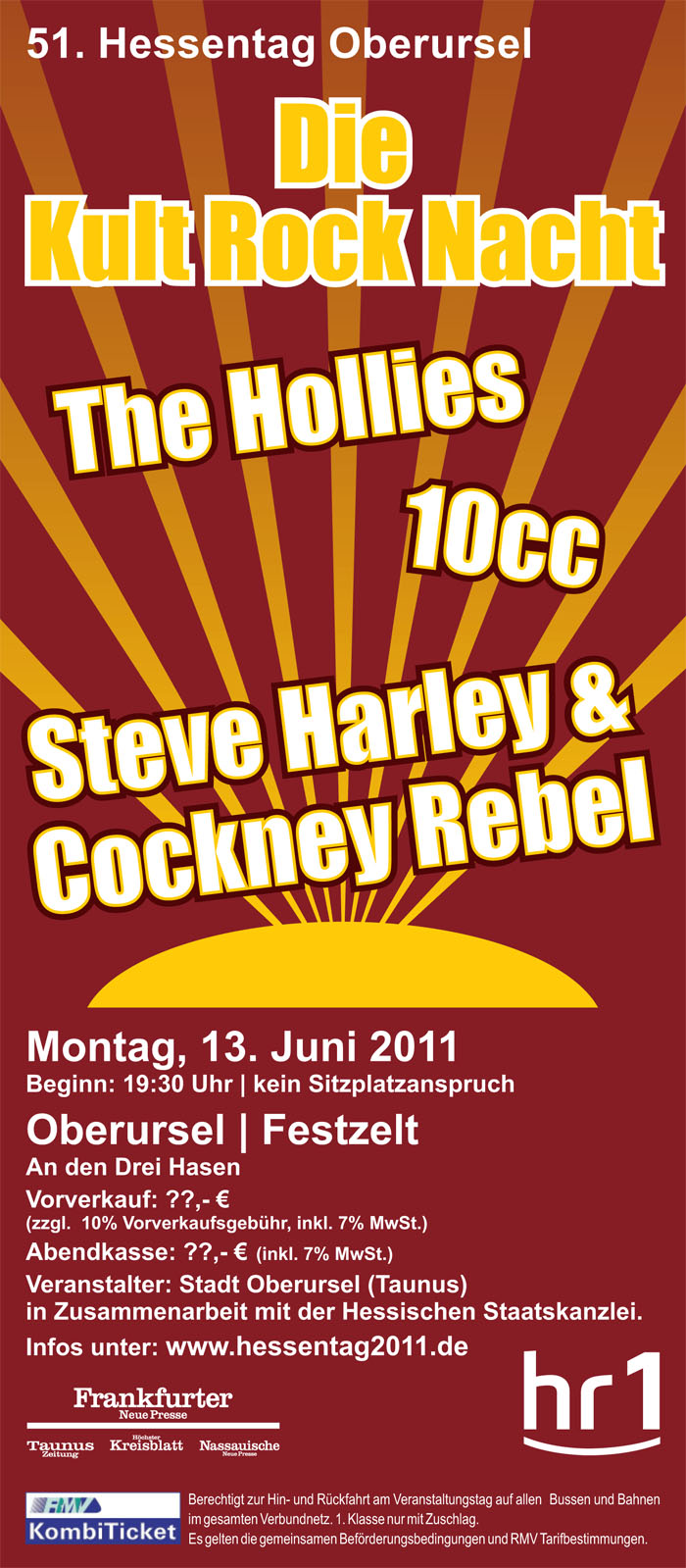 WOGAN, Sunday Dec 27th, from 11 a.m, Steve in conversation and acoustic set
Tuesday, 08 December 2015 13:55
Page 1 of 18