DIARY 06/05/14
Written by

Steve Harley

Read: 8332 Times
Manchester is a great city; and it has always been kind to me, since the beginning. And the sight of almost 2,000 filling the fabulous Bridgewater Hall was one to savour.
We were more relaxed on stage than in Symphony Hall a year and a bit ago. We'd done it before, so the crazy pressure was relieved somewhat. I sang for my life and can't honestly remember a performance that brought me more satisfaction in the 40+ year career (so far!).
The on-stage sound was fabulous. Mighty orchestral sweeps and stabs behind me and all around, and Steve Norman blowing his own storm to my side. The harmonica and sax together feel good up there, I can tell you.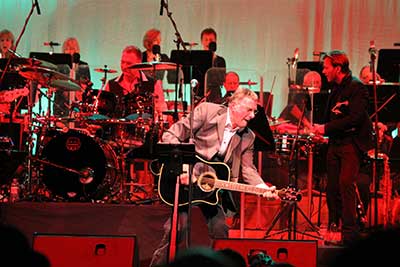 There are only three more to come in the UK, but next year we might be staging the show in a few European cities. I'd love to stage it at the Concertgebouw, Amsterdam, and in Frankfurt or Cologne, Germany. Maybe Oslo, too. But it's an expensive project and I will be depending on local promoters to bring suggestions to the table. And why not Scotland? Glasgow Royal Concert Hall or Usher Hall, Edinburgh, would be perfect. My agent knows my feelings, so we'll see.
We'll have something of a band reunion at the Royal Albert Hall in June. Both Stuart Elliott and Jim Cregan will join us for a small segment – probably just for Make Me Smile at the end, but who knows? Perhaps South Africa-based Duncan Mackay might be in Blighty at that very same time? Unlikely, I know.
I am working on a plan to bring the complete "The Best Years Of Our Lives" to the stage, too. But playing "Make Me Smile" so early in the evening…? Maybe I'll perform the original version, slow and bluesy, and save the real thing for the end of the night. What B-sides are there from that period? We can add those. And the second set will comprise hits and others. We could get a Poll going on the website, like Ray Smith has done in the past. A Fan-led set-list! Whatever next?
I send my gratitude to Leo in Belgium for once again egging us all on to "Vote For Steve"!! What a kind man…and you got "Sebastian" into the Top 20 OF ALL TIME! Imagine how proud I am. Thanks to all who voted, and dank u wel, Leo.