Latest News
Hideaway – Goodmedia's first Symphony Hall edit on-line
Thursday, 31 January 2013 20:31
Another Great BSH Review
Friday, 04 January 2013 12:38
From Record Collector - click here

Two clips from Symphony Hall
Tuesday, 18 December 2012 23:14
Steve's Birmingham Hat Goes for 650 pounds at Auction
Monday, 17 December 2012 17:43
The money has been paid to StepUp, a registered charity dedicated to the counselling of victims of Child sex abuse.
Symphony Hall, Birmingham, Nov 24th 2012 – A Photo Diary" by Jas Sansi/Comeuppance Ltd
Tuesday, 27 November 2012 20:56
The Times – a brilliant, 4-Star Review
Tuesday, 27 November 2012 20:45
Symphony Hall Souvenir Programme for sale
Monday, 26 November 2012 17:57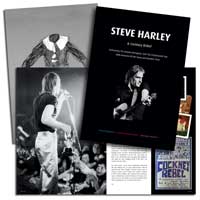 Available now - Symphony Hall, Limited Edition T-shirt
Wednesday, 10 October 2012 19:57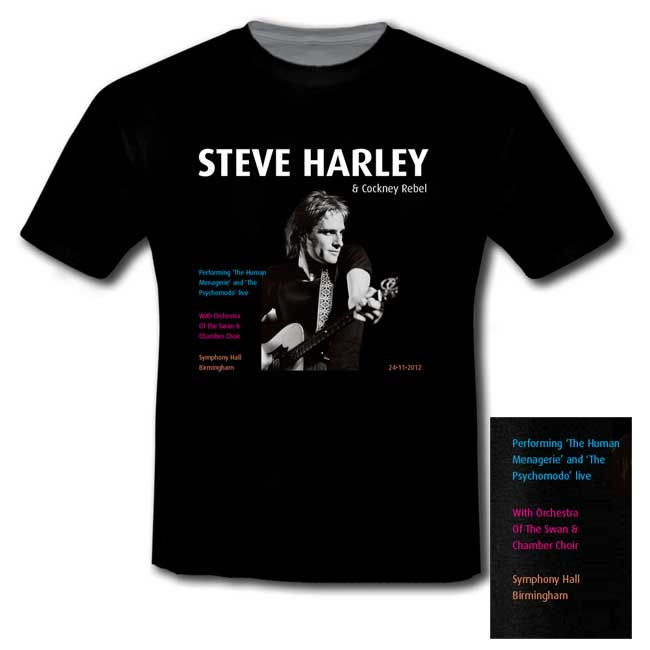 Available to order now

A womans' shape is available, in V-neck
Cockney Rebel "Cavaliers" - An Anthology 1973-1974
Thursday, 27 September 2012 18:41







COCKNEY REBEL
"CAVALIERS"
(AN ANTHOLOGY 1973-1974)
OUT OCTOBER 29TH

| | | |
| --- | --- | --- |
| | PRE-ORDER YOUR COPY NOW... | |



This 4CD anthology includes the band's first two albums, The Human Menagerie and The Psychomodo, as well as all the singles and non album b-sides. It also includes recently discovered early alternative versions and mixes of tracks from both albums, a BBC In Concert, John Peel session and two tracks performed live on the Old Grey Whistle Test which are previously unreleased on CD.





WIN TICKETS TO SEE STEVE HARLEY & COCKNEY REBEL:






We are giving one lucky person the chance to win a pair of tickets to go to any Steve Harley & Cockney Rebel concert on his tour, plus soundcheck!

To enter click here











UK & Euro Acoustic Dates
Thursday, 19 April 2012 21:16
Birmingham Symphony Hall Tickets All Sold Out!
Wednesday, 01 February 2012 09:00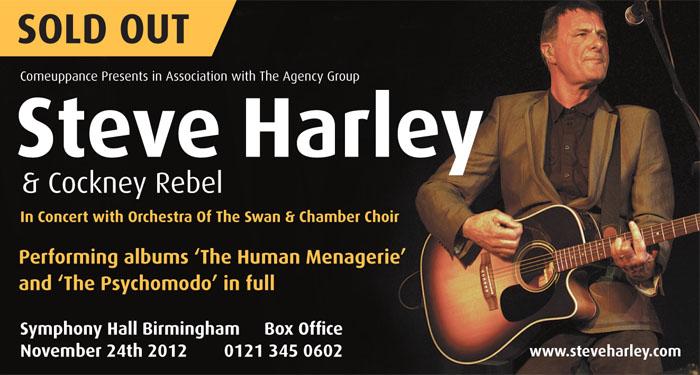 Page 6 of 19