Latest News
Acoustic Set Set For Cathedral Setting
Monday, 04 July 2011 20:25
Steve will play with Barry and James in the fabulous setting of mediaeval Rochester Cathedral. No finer way to spend an English autumn evening.

On Sale Now – click here for ticket details

Steve on Radio 2
Monday, 06 June 2011 18:01
The Best Years Of Our Lives will be the Featured Album on Sunday's Sounds Of The 70s, with Johnnie Walker, BBC Radio 2, 88–91FM, 15:00 – 17:00
Steve fulfils his 'Children in Need' promise
Thursday, 12 May 2011 09:21
Steve has been to Cologne to settle his promise for the BBC Children In Need Appeal. He took trains to Cologne, Germany, accompanied by violinist Barry Wickens, and his techie 'Shop', and played for the auction winner Gregor Koenig, who was joined in his living room by a dozen or so friends and family members. Steve sang the requested "(Love) Compared With You", and added "A Friend For Life" and "True Love Will Find You In The End", another song that Gregor told everyone meant a great deal to him.
Television and radio presenter Gregor celebrated his 50th birthday that evening among 60 people, including his British visitors, in a Japanese restaurant.
Gregor's winning bid for Steve's Takamine electro-acoustic guitar, plus a promise to sing the song of his choice in his home, was a stunning £10,000.
We thank all those who bid for the Lot, all helping to push the high bid to such a fantastic sum.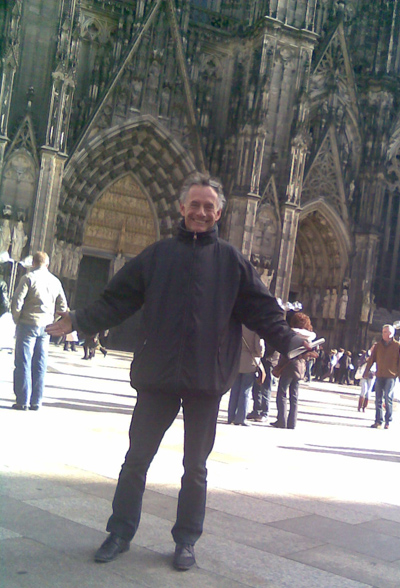 GuilFest 2011, Guildford
Thursday, 12 May 2011 09:11
Guilfest confirmed for Steve and Cockney Rebel. Second from Headline, Stage Two on Saturday, JULY 16th – click here for details

PLUS…Market Harborough, full-band, Saturday OCTOBER 1st – click here for further details

Norway show time
Thursday, 21 April 2011 11:25
NORWAY is ONE HOUR ahead of UK.

NB: Showtime, Friday April 22nd UK Time 20:40 (8:40pm)
Steve with Norwegian Symphony Orchestra
Wednesday, 06 April 2011 17:15
The show will air on Friday 22nd of April at 21.40 (Norwegian time) and run for approx. 1 hour 40 min.
It will be shown again, the day after, on Saturday 23rd. at 15.05.
The show will be on NRK2.
LIVE STREAMING:
New Live Dates announced
Monday, 04 April 2011 09:52
Great Live Reviews
Tuesday, 22 February 2011 21:53
Steve Confirmed for Acoustic Festival Of Britain May 21st
Monday, 31 January 2011 22:48
ACOUSTIC FESTIVAL OF BRITAIN


MAY 20-21-22 Uttoxeter, Staffs.

Tickets and info direct: www.acousticfestival.co.uk

OSLO: Steve with Band and Orchestra
Thursday, 20 January 2011 19:25
See the whole show - spin forward to see Steve (Fast forward to 99.45 for Steve's performance)
Back on air!

Oslo Live Radio Broadcast on Tuesday
Sunday, 16 January 2011 19:28
Steve will be live on NRK on Tuesday 18th January at 22:30 UK time.
To listen online go to: http://www.nrk.no

Click the Radio button that looks like this:

Then click on the NRK P1 button:

A new window launches. Finally click the play button to listen:

NRK P1 (NRK channel 1) is the name of the radio station broadcasting the programme.
Steve Harley & Cockney Rebel's section is the finale of the show. That means it will be broadcasted from a few minutes after 2330 hours, Norwegian time. Which is 2230 in UK, or in other words thirty minutes past ten at night.

Steve Agrees to Rare Meet 'N' Greet Session
Wednesday, 12 January 2011 18:38
After the concert on July 30th 2011: Sinah Warren Hotel, Hayling Island, Hampshire, Steve has agreed to spend time in a Meet 'N' Greet with audience members.
So if you fancy a weekend away, with Steve and full rock band as the concert attraction on Saturday 30th, see LIVE DATES for details.
Or http://www.warnerleisurehotels.co.uk/hotels/sinah-warren-hotel/overview/
Google Warner Holidays Events.

Page 6 of 16