Latest News
Birmingham Symphony Hall Tickets All Sold Out!
Wednesday, 01 February 2012 09:00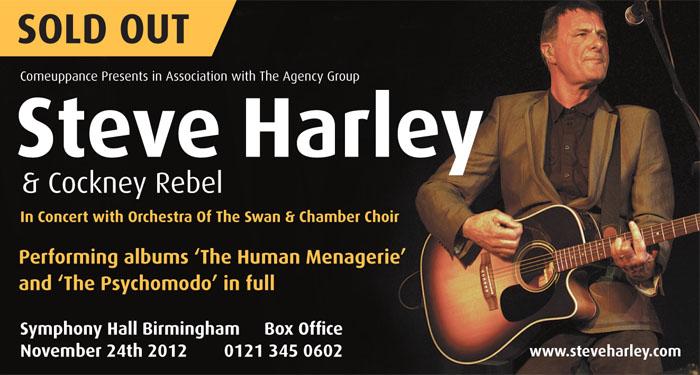 Steve Performs For Marc Bolan Benefit This Saturday
Tuesday, 11 September 2012 20:38
Steve on TV
Monday, 18 June 2012 10:25
BBC 4, Friday June 22nd, 9pm: Steve has been interviewed for a Ziggy Stardust Tribute documentary
Australian TV: July 14th, time tbc, "Rockwiz" with Steve playing Live In The Studio
Spandau's Steve Norman To Play Sax At Symphony Hall show
Thursday, 14 June 2012 14:21
Steve and band play All The Hits Show plus the Big tracks....Bognor Regis Resort
Thursday, 05 January 2012 22:46
Christmas Message from Steve
Friday, 23 December 2011 12:46
Many thanks to all of you for supporting me again during the past year.
Thanks, especially, for buying the tickets.
Without an audience, I really would wonder what had happened to my world!
The response to the plan for an Orchestra and Choir Concert, featuring the first two albums in their entirety, has been really encouraging.
We have the date reserved and tickets should be available soon.

For now, though, a battle-weary wandering minstrel can only say:
Merry Christmas and a Happy, Healthy, Prosperous New Year To You All

Stay your way, eh.
With affection, as always,

Steve

Celebrity Mastermind - date set
Wednesday, 07 December 2011 15:24
The edition of Celebrity Mastermind featuring Steve as a contender will be broadcast on BBC1 TV, DECEMBER 28th at 18:30
Suggs Joins Steve at Glastonbury Abbey show - August 2010
Wednesday, 14 December 2011 23:00
And now on YouTube: Click here

Steve on Radio 6
Wednesday, 07 December 2011 14:15
Friday, December 9th: Steve Will Be With Radcliffe & Maconie, LIVE at 2.30pm, BBC 6 Radio, prior to the Manchester Ritz show.
MOJO SHOW NO-GO
Friday, 02 December 2011 14:17
With great regret, we have to announce Liverpool Mojo, December 15th, has been cancelled. We will give further details re refunds when we have them.
Page 6 of 18