Latest News
November tour!!
Thursday, 21 July 2016 20:58
First shows on sale now at Ticketmaster
New date added: The Robin 2, Bilston, Wolverhampton - Monday 28th November

Three Wise Men (?)
Friday, 15 July 2016 16:33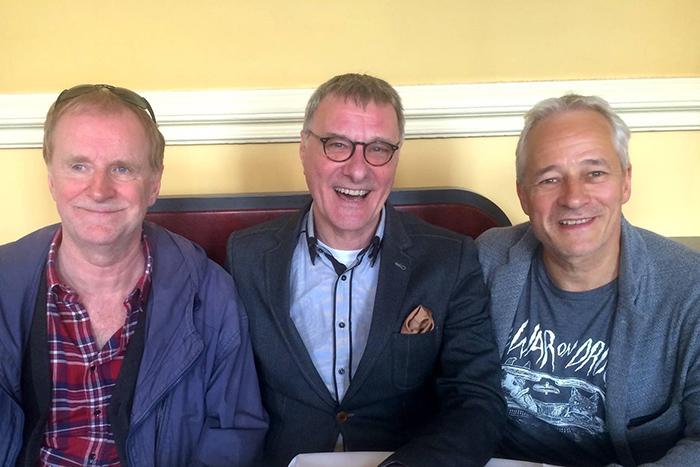 Steve with Robin Millar and Jeremy Lascelles, the directors of Chrysalis Records, who Steve has signed to. Exciting times ahead, we forecast!
NEW!! Acoustic Trio Live Dates November
Tuesday, 12 July 2016 16:23
2nd - Tunbridge Wells Assembly Hall
7th - Bury St Edmunds Apex
13th - London Islington Assembly Hall
18th - Wakefield Warehouse
19th - Wrexham, William Aston Hall
21st - Yeovil Octagon
24th - Liverpool St George's Hall
– more to follow
Music In The Meadow, New Road Farm, Highbridge, Somerset
Tuesday, 05 July 2016 15:27
SEPT 10th FULL BAND headline
See Steve at 7.30 Saturday, Greenwich
Tuesday, 05 July 2016 15:25
JULY 2nd – Steve playing Charity Event
Monday, 13 June 2016 12:00
Wintershall Rock Concert
www.wintershallconcerts.co.uk

7th Wintershall Charity Rock Concert for a black-tie picnic evening. At Wintershall, it is as much about the music as it is the experience

BBC 4 10 pm Friday 20th May - EMI Doc featuring Steve
Friday, 20 May 2016 12:22
Press Updated - Liverpool Review
Saturday, 14 May 2016 10:36
New Live Dates added!
Wednesday, 11 May 2016 11:58
Steve "Guests" for three songs - Wintershall Estate, Surrey

Punchestown Racecourse Music Festival, Ireland

BBC Look North will feature news of Saturday's Rock For Ronson event, at 6.30 this evening (Monday)
Monday, 25 April 2016 12:30
Rock For Ronson, Hull, April 23
Tuesday, 02 February 2016 10:46
CALL Box Office for last avails: 01482 300300
SH & CR, plus Earl Slick, Lisa Ronson, AllForOne Choir, Steve Norman, MonaLisa Twins
Steve Norman is on board for the Rock For Ronson Concert
Wednesday, 27 January 2016 11:11
Steve Norman is on board for the Rock For Ronson Concert, Hull, April 23rd. The Spandau Ballet member plays sax, guitar, percussion and backing vocals. Steve Harley said, "Steve Norman is a really charismatic performer and he'll be a big asset to the evening. Bless 'im!"

Page 1 of 19